DJMP3Promotion Presents…
Shannon K, 17-year-old singer, songwriter and influencer, was born in India to a musically driven family. As the daughter of Bollywood music legend Kumar Sanu, Shannon's ears were continuously filled of sweet melodies while she grew, and by the time she turned four, the little girl was already performing on stage with her father for an audience in the thousands.
During early childhood, Shannon and her family relocated from India to the UK where she studied at London's Royal School of Music. From there, Shannon made the decision to pursue a professional music career, albeit not in Bollywood. Shannon's dreams of becoming a pop star began to transform into reality when she moved to the United States, allowing the teen to explore the endless possibilities the states could offer her.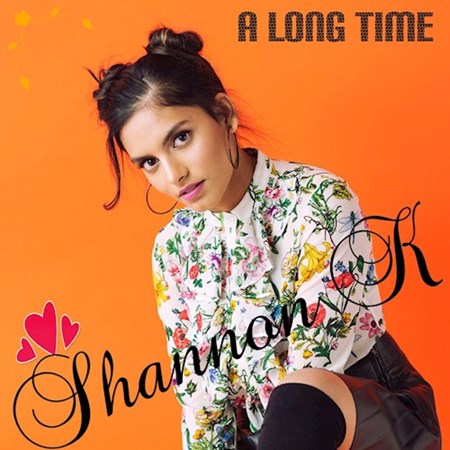 With an experienced background in performing, including singing the National Anthem for the American Legion at Hollywood Post 43, Shannon has performed live at the Warner Theatre in Washington DC, Sun National Bank Arena in Trenton, NJ, Amazura Concert Hall in Jamaica, NY, Terrace Theatre in Long Beach, CA, and the Redondo Beach Performing Arts Center in Redondo Beach, CA. She has also sang at 
Hollywood hot spots like The Peppermint Club, State Social House, and NeueHouse, crediting her singing ability and mature demeanor to all the wisdom she has 
sustained
 throughout her years in this field.
In 2018, Shannon began her journey of launching a successful American singing career with the release of her brand new debut single, "How Long Is A Long Time," written and produced by Justin Bieber's top collaborator, Jason "Poo Bear" Boyd. The 4x GRAMMY award winning record producer and songwriter is the man behind such recent mega-hits like "Where Are U Now", "What Do You Mean", and "Despacito," making him a remarkable hot commodity in today's music industry.
The smooth pop single is destined for commercial success and Shannon K is more than ready to experience eminence for her musical styling and vocal abilities. Later this year, her full EP will be available and will include original songs she has written on her own, as well as co-written with her younger sister.
Apart from singing, writing, rehearsing and performing, Shannon K believes in serving good causes. She spends as much time as possible focused on a number of charities, and even donated her long hair for the Little Princess Trust – a charity that provides real hair wigs for children living with cancer and other illnesses.
Shannon K Instagram

Shannon K Facebook